Welcome to Mother Tucker's Antiques and Collectibles!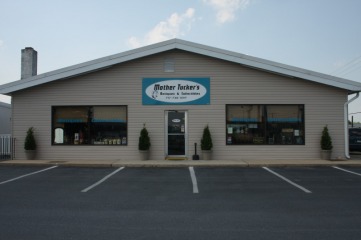 Mother Tucker's Antiques and Collectibles is a unique shopping experience. We are located in beautiful Lancaster County and are part of Antiques Capital USA which stretches from Adamstown to Ephrata PA along route 272. We are less than 5 miles south of the PA Turnpike and within one mile of Green Dragon Flea Market.
When browsing through our store you will find 30+ active dealers in a co-op atmosphere selling affordable items. There are dealers who specialize in a specific field of antiques and other dealers who carry a variety of merchandise. Some of our dealers include Creations by Kathe who sells primitive creations. We also have one of the largest postcard dealers in the area.
Some of the items you will find in our store include:
Jewelry / Kitchenware
Glassware / Pottery
Clothing / Linens
China / Porcelain
Postcards / Military
Primitives / Tools
Dealer Supplies
Retro, Mod, Mid-Century items and much more!
Please click on the
photo gallery
to get a feel of what Mother Tucker's Antiques has to offer. Our inventory is constantly changing so there are always new treasures to find!
Mother Tucker's Antiques and Collectibles is a customer friendly store. So if you are a new collector or veteran antiquer there is always something fun and affordable for you to find. Our 4000 square foot building has been newly renovated for your shopping pleasure. There are multiple, well-lit booths and showcases under one climate controlled roof. We have plenty of parking and clean restrooms with friendly and courteous staff to help with all your shopping needs. We accept Visa and Mastercard. Find us on
Facebook
for weekly updates on sales and merchandise.
If you are visiting the area, there are many other antique stores close to us! Please visit
Antiques Capital USA
for information on the antique stores in the Adamstown area or check out the
Sunday Driver
for antique stores in the surrounding areas.
2017 EXTRAVAGANZA
dates are as follows:
Spring Extravaganza - Wednesday April 26th thru April 30th
Summer Extravaganza - Wednesday June 21st thru June 25th
Fall Extravaganza - Wednesday September 27th thru October 1st
Store Hours for the Extravaganzas are:
Wednesday - 9am - 5pm
Thursday - 9am - 8pm
Friday - 9am - 8pm
Saturday - 9am - 8pm
Sunday - 9am - 5pm
Monday - 9am - 5pm
Please check us out as often as possible! We have new vendors that are stocking merchandise daily!
---